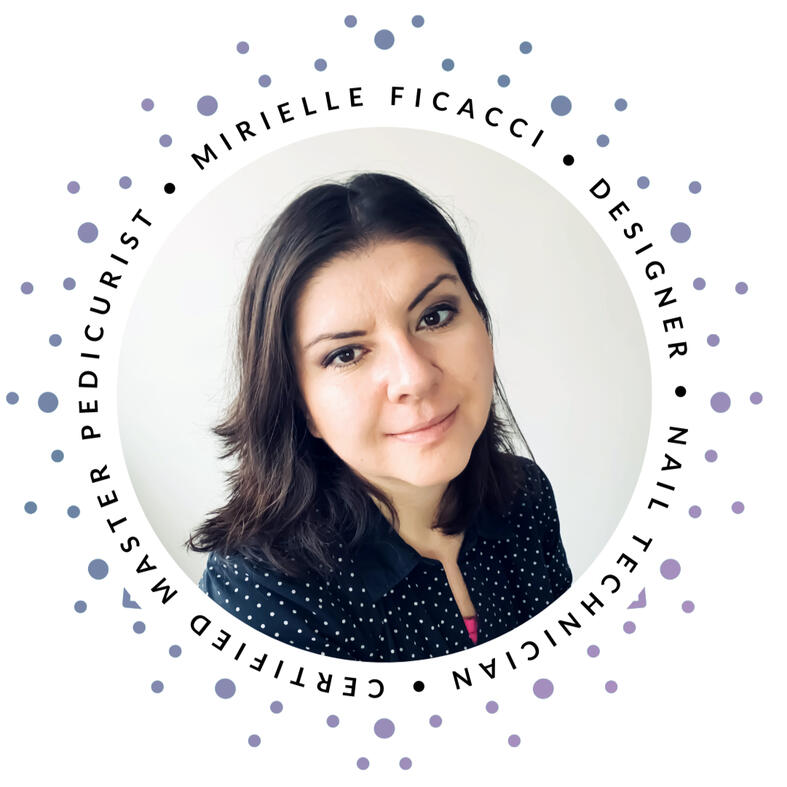 ---
Mirielle Ficacci
Session Manicurist
---
Accreditations

Aesthetic Pedicure
Famous Releaf Education Program
July 26, 2021

Sculptured Nails Acrylic Technology
Viktoriia Klopotova professional nail school
June 30, 2021
European liquid and powder sculpting nail techniques.

Infection Control (2hr. course)
May 8, 2020
Milady Training

Professional Manicure
Viktoriia Klopotova professional nail school
February 11, 2020
European manicure techniques.

Nail application with color polymers
Viktoriia Klopotova professional nail school
February 7, 2020
Regular polish and gel polish European application techniques.

Nail art
Vision Gel Systems
April 2019 – April 2019  Edmonton, AB
Nail art and Conversion training to Vision gel Systems

Podocare Acreditation Course
Podosafe
April 2019 – April 2019  Edmonton, AB
Pedicure training

Nails: Mastered Alumni
Mastered
February 2018 – December 2018
Fashion & Session Nail Artist training

Nail art Workshop
Indigo Nails Canada
December 2017 – December 2017  Edmonton, Canada
Nail art Workshop

Continue Education Program
Footlogix
July 2015 – April 2016  Edmonton, Canada
Pedicure Continue Education online webinars

IBX Certified Nail Technician
Famous Names IBX SYSTEM
November 2015 – November 2015  Edmonton, Canada
Education Program for nail repair treatments.

Salon Gel Painting Workshop
Ultrabeauty.ca
April 2015 – April 2015  Edmonton, Canada
Salon Gel Painting Workshop

Shape perfection Workshop
Mosaic Nail Systems
April 2015 – April 2015  Edmonton, Canada
Advanced European Shapes

Basic, intermediate and advanced nails application
Training Center in Acrylic and Gel Nails
October 2013 – October 2013  Mexico
A course of basic, intermediate and advanced application requirements,
effects, techniques, structure, and colorimetry for the professional
application of acrylic and gel nails

Advanced acrylic nails design workshops
Organic Nails de México

Euphoria Workshop
August 2013 Mexico

Euphoric Sensations Workshop,
July 2013 Mexico

Sundance Revelation Workshop
March 2013 Mexico

Springer Collection Workshop
July 2012 Mexico

Seasons Collection Workshop
November 2011 Mexico

Romance Collection Seminary
November 2010 Mexico

Nail Technology Training
Lorena Salas Trainer
2008 – 2008  Mexico
Acrylic Nails enhancements course

Experience

Freelance Session Manicurist
2018 – Present  Edmonton, AB
Fashion and commercial freelance work as a photo session manicurist.

CEO at Mirific Nails
2016 – 2020  Edmonton, AB
Salon owner and nail technician.

Nail Technician at Mirielle Ficacci Nails
2008 – 2013  Mexico
Independent Nail technician.
2021 © Mirielle Ficacci
---